Structuring effective community partnerships to grow impact (Work smarter, not harder)
On demand
Duration: 60 minutes
Large-scale partnerships can be one of the most effective ways for programs to supercharge their efforts. With a solid structure, communication, and management in place, collaboration between organizations lets each partner leverage their strengths, resulting in reduced implementation costs and lift, deeper community reach, and increased impact.
However, without that intentionality, they can quickly come to feel like a giant communications headache leaving teams siloed and everyone wondering who is responsible for what. At LENA, our partners have been there!
Join us for a discussion about key elements for building successful partnerships, featuring Ruth Ann Moss, executive director of Birmingham Talks, and Janelle Wydeven, director of family engagement with Calgary Reads. Attendees will learn about:
Structuring partnerships clearly.
Communicating them effectively.
Setting realistic expectations.
Managing relationships for ongoing success.
While you're here, take a moment to download our Guide to Building and Maintaining Community Partnerships.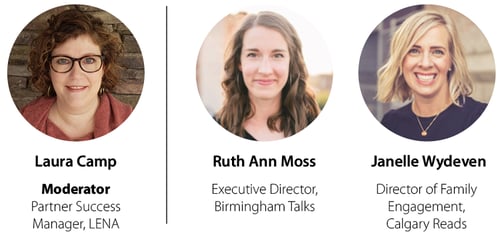 About Ruth Ann Moss
After she graduated from Mississippi College, Ruth Ann's passion for education and justice led her to the classroom. Ruth Ann served as a Teach For America corps member and taught for four years. Eager to impact students beyond her individual classroom, she then joined staff at Teach For America – Alabama where she coached new teachers across the state, managed educator certification, and executed large-scale professional development. After eight years in K-12 education, Ruth Ann shifted to the early childhood sector as the founding Executive Director of Birmingham Talks. In the two years since its inception, Birmingham Talks has impacted hundreds of young children through the power of interactive talk.
About Janelle Wydeven
Janelle is the Director of Family Engagement at Calgary Reads, a not-for-profit organization in Calgary, Alberta, with a mission to equip communities with the books, knowledge, and inspiration they need to support every child reading by Grade 3. Calgary Reads has partnered with community organizations over the past 3 years to deliver LENA in Calgary. Janelle's background in School, Family, and Community partnerships as well as Speech & Language Sciences support this work, as does her deep belief in the collective impact of partnerships!