Recruiting families for community programs
On demand
Duration: 58 minutes
Far from a one-time event, program recruitment is an ongoing effort. And far from universal, recruitment strategies are unique to each type of organization. If you're part of a team that provides programs for the community, how do you drum up excitement and spread the word?
As programs return to in-person sessions and incorporate hybrid approaches this fall, recruitment will be unique (and uniquely challenging). We talked with leaders from Mesquite Independent School District (Texas) and Pikes Peak Library District (Colo.) about how they've built buzz around their LENA Start programs and how they've translated that buzz into successful program implementations. Topics included:
Identifying low-hanging opportunities and potential obstacles.

Crafting your elevator pitch and getting staff on the same page.

Establishing relationships with local media outlets.

Thinking outside the box. (Hear the story behind Mesquite ISD's colorfully decorated ReadPlayTalk school bus!)
Panelists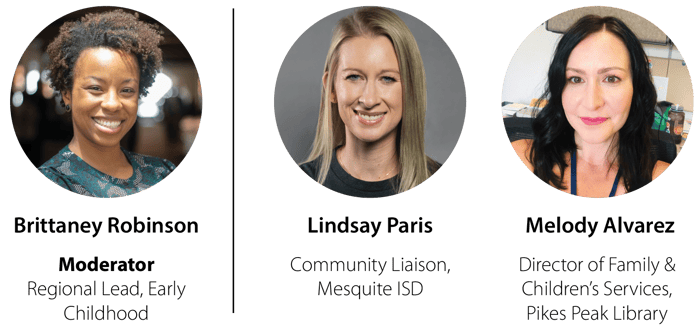 About Lindsay Paris
Lindsay Paris is the community liaison for Mesquite ISD, where she oversees the district's community education department and an early literacy initiative called ReadPlayTalk. ReadPlayTalk is a community-supported initiative that encourages parents of preschool-aged children through events, programming, and other resources to read, play, and talk with their children every day. Mesquite ISD has just completed their second round of LENA Start sessions and will begin their third session in September.
About Melody Alvarez
Melody Alvarez is the director of Family & Children's Services with the Pikes Peak Library District. Prior to this new role, she was the early literacy librarian and launched LENA Start for PPLD in September 2018. Melody continues to recruit families and organizations and facilitate LENA Start cohorts.