"Reading for Our Lives": A conversation about early talk and early literacy with Maya Smart
On Demand
In her book Reading for Our Lives: A Literacy Action Plan from Birth to Six, Maya Smart uses the analogy of a road trip to describe the "road to reading" for parents of young children. They need:

The lay of the land. This is the "10,000-foot view of how reading unfolds from infancy to early elementary school."
A supply of premium fuel. There's so much new research on how a child's brain develops early in life. Knowing about this research is powerful.
Help with routine maintenance. It's one thing to know about the research, but it's another thing altogether to turn that knowledge into everyday practice.
Access to roadside assistance. No family is an island, and "reading develops within a dynamic web of relationships and experiences." There's a lot parents can do themselves, and there's a lot they need/deserve help with.
While Maya's book is written for parents, in this webinar she'll be speaking to those of us who work with parents, the ones providing the "roadside assistance." Maya thinks early interactive talk can help jump-start the journey to literacy.
In conversation with Araceli Diaz, Education Manager at the Dallas nonprofit The Concilio, she'll share what she's learned during her own book-writing journey, and attendees will learn about her vision for our "collective power to raise our readers well."


Panelists: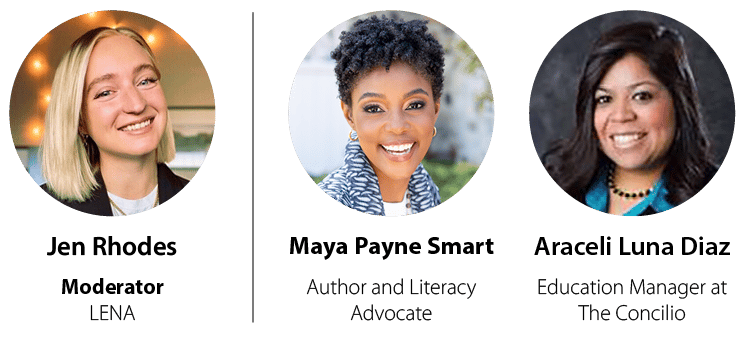 Jen Rhodes (moderator), Philanthropy Project Lead at LENA
Maya Smart, author and literacy advocate
Araceli Luna Diaz, Education Manager at The Concilio