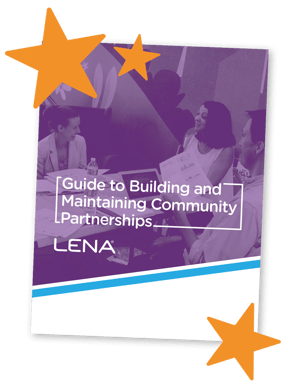 Building a partnership network is not easy. This guide is meant to demystify the process and to help you lay the groundwork for forming partnerships that work.
The guide's framework is based on implementing LENA programs, but it can also be applied more widely:
Map it out. How do you identify "good fit" partners?
Recruit. How do you establish alignment and get them on board?
Communicate. How do you clarify roles and responsibilities?
Celebrate. How do you lift up your partners?
With the right partnerships mapped out, the right partners recruited, and the right communications strategies in place, the end goal of delivering high-impact programs that better people's lives can come into clear focus.
Download this guide to get started! And while you're here, stream the webinar that inspired the guide.