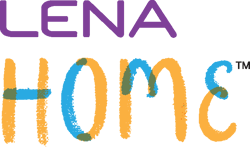 Explore an interactive curriculum sample.
LENA Home provides an innovative way to support home visitors working to help families add an increased focus on interactive talk. It is research-based, evidence-informed, and has been developed through our experience working with thousands of children and families.
The program's engaging curriculum — which is available in both English and Spanish — teaches caregivers brain-building talk skills by leveraging short, individualized coaching sessions, instructional videos, printed resources, and self-reflection.
Fill out the form on this page to explore an interactive curriculum sample!