LENA Grow: Explore a coaching session in action
Each week of a LENA Grow program consists of two parts:

One LENA Day, when the children wear their LENA devices and the classroom's audio environment is analyzed.
One coaching session, when a coach spends one-on-one time with each teacher, helping that teacher assess how their LENA day went and develop strategies for making their next LENA Day even better.
The coaching sessions are important for the teachers, of course, but they also provide a novel approach for the coaches themselves. LENA Grow is designed for teachers to make their own insights and to arrive at their own "a-ha" moments. In addition, a lot of the heavy lifting is done by the curriculum materials. That means coaches have more freedom to personalize their approaches for each teacher and to keep the learning experience active.
"I've been coaching a long time," said Kathy Cestaro, a coach with the Early Learning Coalition of Sarasota County, Florida. "To have a different direction, to have it be so data-driven, has been just a different approach for me. It's been really exciting."
---
Video: How LENA Grow works
---
What a coaching session looks like
Reviewing LENA Reports
There will always be new data from the most recent LENA Day
to review at each coaching session. Reports help begin strengths-based conversations about
what teachers' real-life classroom days are like, along with the experiences and behaviors of
individual children.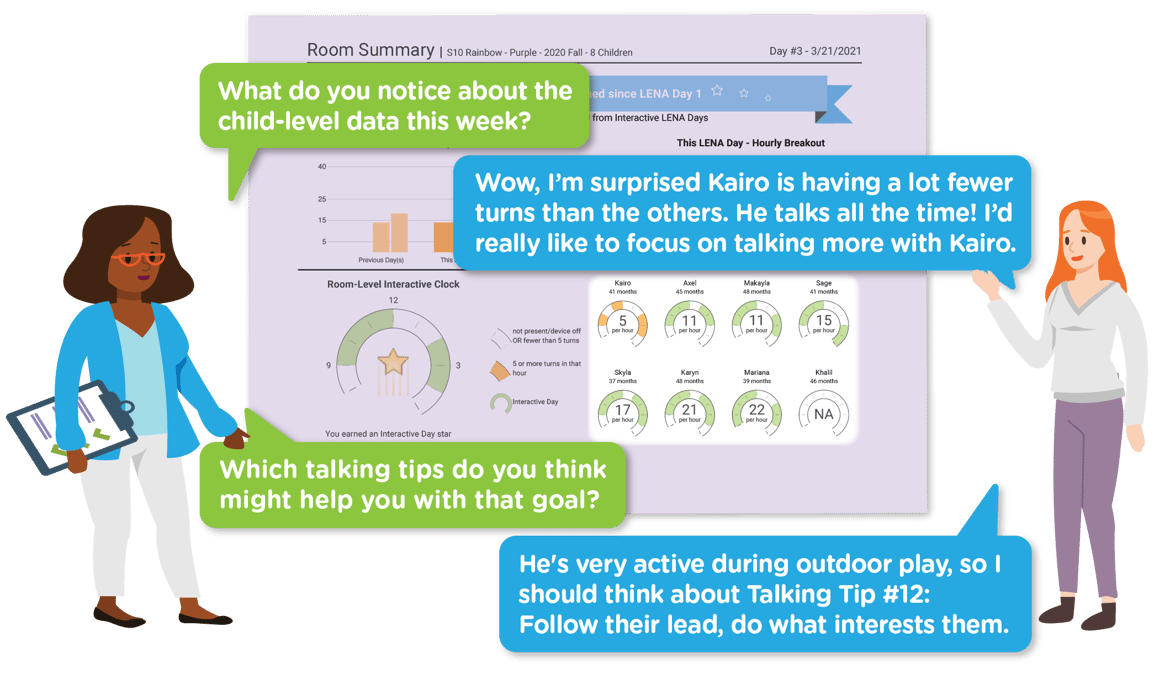 Two of the most important reports are the Room Summary Report and the Room Detail Report, which lend insight on how teachers are interacting with individual children and how their classrooms compare to average child care settings.
Coaching for increased interaction
After reviewing the reports, coaches share Talking Tips videos
and Conversation Starter handouts with teachers and discuss techniques for increasing quality interaction in the room.
Talking Tip videos show real teachers demonstrating interactive talk with children during daily care routines like diaper change, mealtimes, and more.
Conversation Starters are colorful posters with suggestions on how to increase interaction during daily care routines like outdoor play. These helpful reminders can be posted near where the activity usually takes place, like next to a changing table or classroom door.
Setting goals
Each coaching session ends with a discussion of goals for the next LENA Day. Teachers set their own goals based on their personal interests and desired areas of focus. This encourages reflection and ownership over their own professional development.
---
Want to learn more?
If you are interested in bringing LENA Grow to your community, we'd love to learn more about your work.
Our team is available to answer any questions big or small.
We also invite you to take the LENA Program Readiness Assessment, an important first step to bringing LENA Grow to your community.