Integrating LENA Home into Early Head Start Programs
On demand
Duration: 56 minutes
Learn how two different Early Head Start programs integrated LENA Home into their supports for families in this webinar. The Santa Clara County Office of Education in California and Lumin Education in Texas share two common goals: to better support families in being their child's first teacher and to help their home visitors build positive partnerships with families. Through LENA Home, which embraces a trauma-informed approach, home visitors are able to use data to individualize their coaching and meet families where they are. At the same time, Head Start programs are able to report quantitatively on the increases in school readiness the children are demonstrating.
Panelists: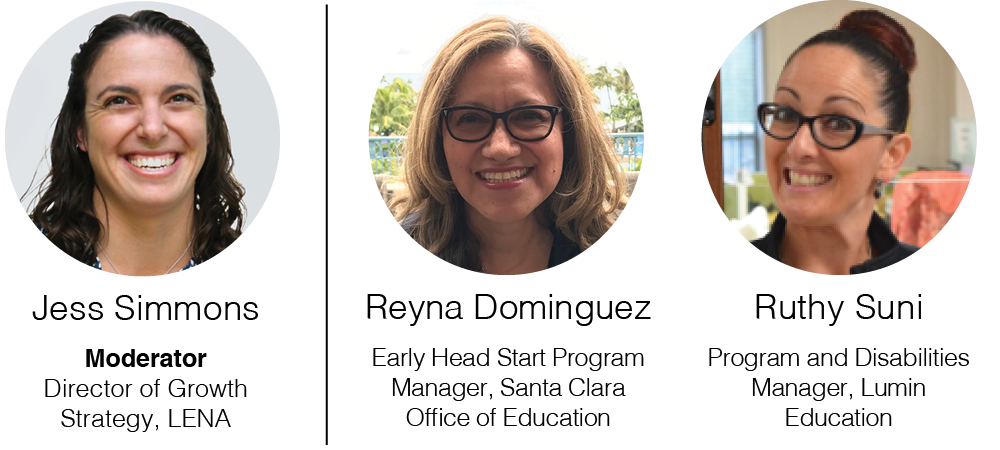 About Reyna Dominguez
Reyna Dominguez has 30 years of experience designing and operating Head Start, Early Head Start, and state preschool programs. In her current position, she oversees the Early Head Start Program at the Santa Clara County Office of Education (SCCOE). During her tenure at SCCOE, she's grown the program to almost 500 children, and expanded services to included center-based care, home visiting, and family child care. Reyna has a master's degree in public health and a master's degree in teaching with a specialization in child development. She has served as a commissioner on the Ventura County First 5 Commission, the Community Commission of Ventura County, and was on the board of directors with Future Leaders of America, Clinicas del Camino Real, and the California Head Start Association, to name a few.
About Ruthy Suni
Ruthy Suni was born and raised in Mexico City. She has a bachelor's degree in mass communications from Universidad Anáhuac in Mexico City. Ruthy has worked as a preschool Spanish teacher at Spanish Schoolhouse in Castle Hills, Texas, as well as in the Spanish summer immersion camp at Dallas International School, and Rockbrook Montessori in Irving, Texas. She would later become the assistant principal there before transitioning to Lumin Bachman Lake Community School in 2012. Ruthy started as a Lumin parent educator in the Bachman Lake campus and later in West Dallas. Today, she works as the program and disabilities manager.