Supporting teachers in building a responsive caregiving environment
On demand
Duration: 1 hour, 1 minute
As many organizations and small businesses across the child care industry fight to stay operational, they must at the same time find ways to continue to support their staff and maintain a positive learning environment for children. This can feel like an impossible tension layered on top of uncertainties in staffing, enrollment, revenue, and funding streams. One path forward is to connect teachers working with children experiencing trauma and increased stress with tools and resources to help them provide responsive care in this challenging context.
In this webinar, we heard from Amy Cubbage, president of Smart Start and a longtime advocate of quality, along with Rhonda Rakow, Director of Provider Services of ChildCareGroup and a program director working with LENA Grow in the field in Texas. We discussed new data looking at the variability of interactions across child care settings, explored what quality means now, and offered strategies for supporting teachers in this work with an emphasis on reducing provider stress at the same time.
Presenters: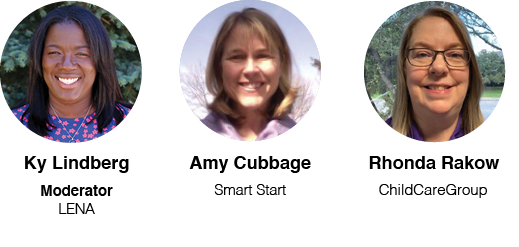 About Amy Cubbage
Amy Cubbage is the president of the North Carolina Partnership for Children (NCPC), leading Smart Start, North Carolina's comprehensive early childhood system. Smart Start is funded through a public/private partnership and consists of 75 local partnerships working in all 100 North Carolina counties to advance a high-quality, comprehensive, accountable system of care and education for each child beginning with a healthy birth.
Throughout Amy's career, she has been an active board member of NAEYC affiliates. Beginning in 2008, Amy's work focused on the assessment and improvement of early childhood education programs, joining the National Center for Research on Early Childhood Education at the University of Virginia and then, in 2010, Teachstone. She served in various roles at Teachstone, managing teacher coaching, training, and professional development, as well as public policy, legal, and strategy work.
About Rhonda Rakow
Rhonda Rakow is the Director of Provider Services at ChildCareGroup, a 119-year-old non-profit organization in Dallas, Texas. ChildCareGroup manages the child care subsidy program as well as quality rating and improvement system for three service delivery areas in Texas. Rhonda oversees the child care subsidy payments and attendance, the Texas Rising Star program (Texas' quality rating system), and quality improvement activities to help early childhood programs achieve TRS certification, impact kindergarten readiness, and strengthen early childhood programs in the Dallas community.