Every i
nteraction counts: Bringing back a thriving culture through early talk
On demand
Duration: 60 minutes
Across the nation a clear theme is emerging: early childhood educators are experts in agility. These educators have had to continuously shift their approach and practice throughout the COVID-19 pandemic to address challenges like increasing workforce shortages and changes in children's development.
Two county-level agencies in Florida have found ways to provide incredible support to these educators — whether they have zero or 25+ years of experience. Using LENA Grow and the power of early talk they are building a culture of practice that centers interactions as key to learning and growth. Join ELC of Orange County and ELC of Sarasota County as they share data and stories on how they've increased teacher confidence and competence (and CLASS scores, too!) despite the challenges of the past two years.
We'll discuss the strategies used to address:
Limited staff capacity.

Teacher voice and staff retention.

Enhancing workforce development opportunities (for experienced educators and new hires alike!).
Panelists: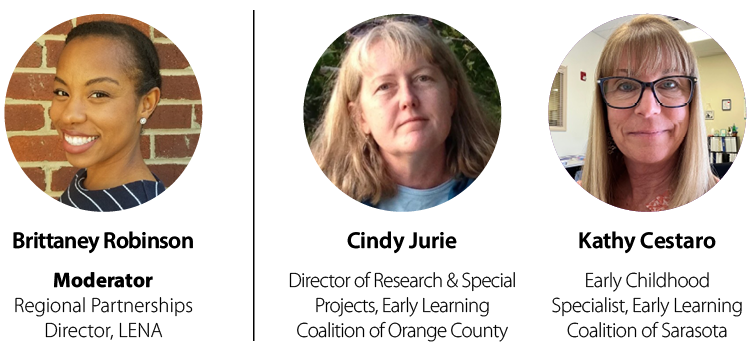 About Cindy Jurie
Cindy Jurie, PhD, has worked in early care for over thirty years, in a diverse number of settings, including Migrant Head Start, a teen parenting program, and as the program manager at Seminole State's early childhood education degree and vocational programs.  She has been an infant/toddler teacher, director, CDA advisor, and trainer.  Cindy's master's degree is in Early Childhood Education from Wheelock College while her PhD is in Child Development from Erikson Institute. In her work as a Director of Research & Special Projects, Cindy has designed and implemented funded initiatives in support of  infant/toddler quality, early literacy targeted interventions, business supports for early childhood directors & owners, and most recently, early childhood mental health supports. 
About Kathy Cestaro
Kathy Cestaro has been in the field of education for 30+ years. She holds a bachelor's degree in Elementary Education and Early Childhood. Her career has brought her through elementary, middle school, and early childhood classrooms in three different states. Since 2004, Kathy's role has been primarily early childhood coach and trainer. She has been involved with LENA for two years, and just entered her third sequence with four classrooms and 45 children.