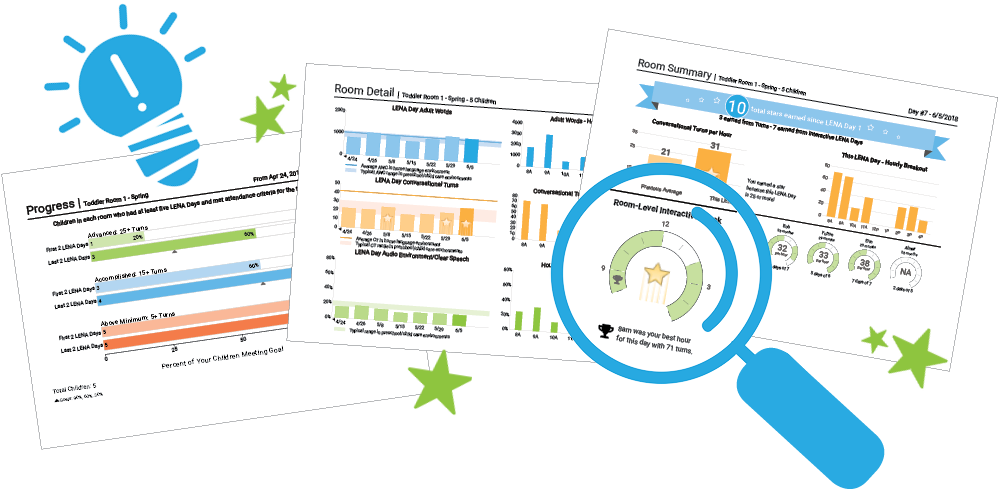 How do we support teachers in making strong connections between data and action?
On demand
Duration: 60 minutes
The data reports for teachers and coaches included with the LENA Grow program are a powerful tool for boosting quality interactions in infant, toddler, and pre-k classrooms. But how do we most effectively use the data provided to create sustainable behavior change? Join us for a discussion of the insights embedded in LENA metrics and strategies for using them to foster a strengths-based dialogue with teachers that builds enthusiasm for classroom talk.
Our presenters:
About Lauren Cooper
Lauren Cooper is a Customer Implementation and Success Coordinator at LENA. She is a Speech Language Pathologist and brings extensive experience supporting children and families in Early Intervention programs, public and private schools, clinics and Early Head Start programs.
Lauren earned her Bachelor of Arts degree in International Studies and Spanish from Saint Louis University and earned her Master of Health Science degree in Communication Sciences and Disorders from the University of Missouri. Lauren holds a Certificate of Clinical Competency through the American Speech Language and Hearing Association and additional licensure through the State of Colorado and the Colorado Department of Education.
About Dr. Emisha Young
Dr. Emisha Young has been in the field of early childhood for nearly 15 years working as a Head Start Teacher, Master Teacher, and New Teacher Coach. She also worked as a director for an NAEYC-accredited child development center and a project director for an early childhood research organization. Currently, she works at Tulsa Educare, Inc. as a Master Teacher. In this role, she provides instructional support, coaching, and reflective supervision to 24 classroom staff, and has been the lead trainer and coach for the three Educare classrooms participating in the Oklahoma statewide pilot of LENA Grow.