Every child ready by kindergarten: A case study in one school district's vision of early childhood
On demand
Duration: 57 minutes
New neuroscience research shows us that the first five years of a child's life are the most critical period for brain development, when the foundation of all language and literacy skills are built. Recognizing this, school districts around the country are increasingly investing in the early years to give children an equitable start long before kindergarten.
The research shows us that the gaps that students enter kindergarten with will likely stay with them for the course of their formal education. A child's vocabulary at age three predicts language and reading skills at ages 9-10, about the time they're finishing third grade. In turn, third grade reading scores strongly predict high school graduation.
Interventions and support continue to matter at every stage, but what if we looked at early childhood education as an extension of "school"? We explored this topic in a conversation with Jim Duggan, Bourbonnais School District 53 (Illinois) Assistant Superintendent/Supplemental Interim Superintendent, who is reimagining what "school readiness" means for kids, families, and teachers.
Presenters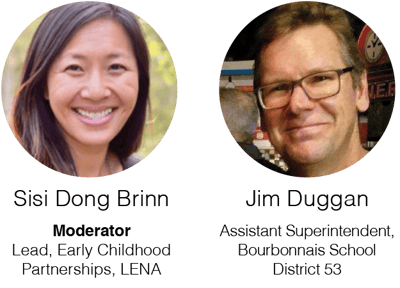 About Jim Duggan
Dr. James Duggan has been a teacher in both Wisconsin and Illinois, as well as an elementary school principal. For the past seven years, he as served as assistant superintendent and director of instruction in Bourbonnais, Illinois. In this role, he has been a strong advocate for the importance of early childhood education and kindergarten readiness. He has sought out ways to include multiple partners beyond his district boundaries to improve readiness, and has also attempted to shift spending priorities to align with brain research in early learning.