Beyond the 30 Million Word Gap: A Conversation with Dr. Rachel Romeo
On Demand
Duration: 55 minutes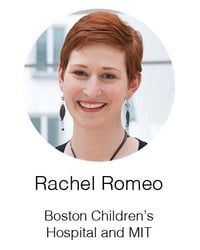 Join LENA's president, Dr. Steve Hannon, as he hosts a conversation with Dr. Rachel Romeo, lead author on a study from Harvard and MIT that sheds light into the underlying neural mechanism that makes conversational turns so critical for brain development.
The study, published in Psychological Science, used a combination of LENA technology and fMRI imaging to measure the relationship between language experience and brain activity in young children. When controlling for parental education and SES, "only conversational turns significantly predicted additional variance in verbal scores," according to the paper, while the sheer number of adult words did not.
Boost your understanding of this critical research and learn more about how to put it into practice to support parents, caregivers, and teachers!
Are you looking for a broad overview of the recent research on conversational turns? Check out "The Power of Conversational Turns" webinar, which provides a big-picture view of recent studies through discussion between Drs. Rachel Romeo and Jill Gilkerson, moderated by Shannon Rudisill of the Early Childhood Funders Collaborative.