14 simple strategies to help caregivers talk more with infants and toddlers
—

now available in

English, Spanish, French, Arabic, Korean (new!), Portuguese (new!), and Mandarin (new!).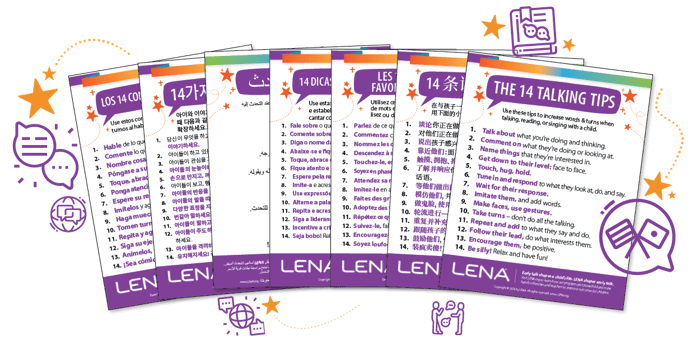 The 14 Talking Tips are research-based techniques for increasing early talk, and talk is one of the most important factors driving brain growth and kindergarten readiness for children aged zero to three. To support the needs of our culturally diverse partners and the families they sustain, we're now offering the Talking Tips in seven different languages, including English, Spanish, French, Arabic, Korean, Portuguese (Brazilian), and Mandarin.
Building talk is as simple as finding ways to incorporate it more into daily routines. Post these tips as a reminder to look for opportunities to talk more throughout the day.
The Talking Tips are copyrighted material. For replication or distribution, please contact LENA. Laminated bilingual copies for program use are available through our shop.