14 Simple Strategies to Help Caregivers Talk More with Infants and Toddlers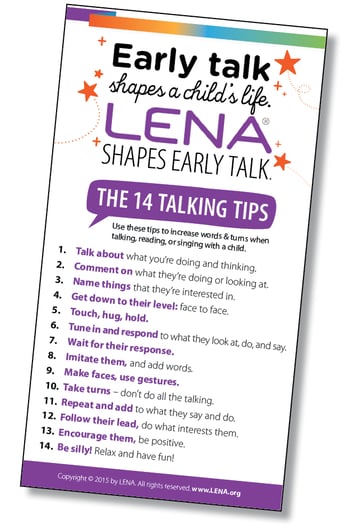 The 14 Talking Tips are research-based techniques for increasing early talk, and talk is one of the most important factors driving brain growth and kindergarten readiness for children zero to three.
The good news? Building talk is as simple as finding ways to incorporate it more into daily routines. Post these tips as a reminder to look for opportunities to talk more throughout the day.
The Talking Tips are copyrighted material. For replication or distribution, please contact LENA. Laminated bilingual copies for program use are available through our shopping cart.
What parents and teachers are saying about the 14 Talking Tips: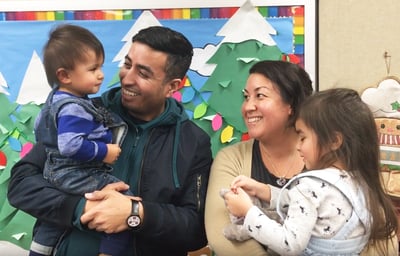 Kimberly Ochoa, mom:
"My favorite Talking Tip is "Get down on their level." That one really opened our eyes big time. We didn't realize that we were talking over the kids before. That tip was the hardest one for me and my husband to get a handle on, but when we did it was a big eye opener."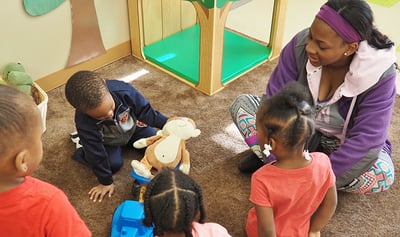 Dasheena Moore, Early Head Start Teacher:
"The Talking Tips are simple to understand and implement in a busy classroom, so it's easier to actually do them. They've helped me get my kids talking more by following their lead and paying attention to what they're interested in."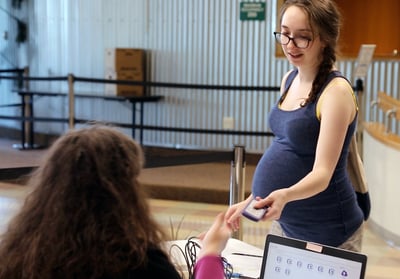 Cassidy Lemmon, young parent:
"Talking with my daughter helps so much more than I could have imagined. She asks for things now instead of yelling at me and demanding things. She actually sits down and reads books with me now. She's calmer now that she knows I can communicate with her."